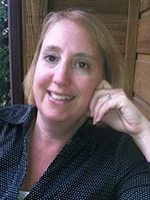 Work
Rebecca Posusta received her B.A. and M.A. in English Literature from Georgia State University in Atlanta, Georgia. In 2008, she joined the faculty at UCCS as a literature instructor and was promoted to Senior Instructor in 2013. She teaches a variety of introductory courses in literature, including an essential and required Introduction to Literary Studies course; British literature of the seventeenth and eighteenth century; Postcolonial literature; an Inclusivity course for the Compass Curriculum on Global Women Story Tellers and a Sustainability course on Environmental Stewardship and the Management of the Estate in literature. In 2012, she also became an instructor in the Humanities program and has taught courses on Jane Austen and Charles Dickens along with faculty from the History Department. In 2015, Rebecca took a group of students to England for a 12-day Study Abroad course on Jane Austen, a travel course she hopes to repeat many times in the future. An ardent fan of Jane Austen, she has been a long time member of the Jane Austen Society of North America and served as Regional Coordinator for the Pikes Peak Region from 2013-2017.
---
Areas of Interest
Jane Austen; Seventeenth, Eighteenth and Nineteenth Century British Literature; architectural and landscape representations in literature; global and Postcolonial literature; Charles Dickens; Shakespeare and John Donne. "If Jane Austen is my heart, John Donne is my soul."
---
Education
B.A.& M.A. English Literature Georgia State University
---
Courses Taught
Engl 1500 "Introduction to Literature for Non English Majors"
Engl 2010 "Introduction to Literary Studies for English Majors"
Engl 2520 "British Literature of the Long Eighteenth Century"
Engl 2610 "Global Literature II: Postcolonial Literature"
Engl 2930 "Eight Women Story Tellers"
Engl 2920 "Environmental Stewardship & the Management of the Estate in Literature"
Hum 3990 "Jane Austen's World"
Hum 3990 "Orphans, Thieves, & Scarlet Women in Victorian England & the Novels of Charles Dickens"
---
Publications
"Architecture of the Mind and Place in Jane Austen's Persuasion." Critical Surveys: Locations of Austen.
Volume 26, Number 1, Spring 2014 pp. 76-91 (16). Winter 2012/2013 "A Tale of Two Evacuations" JASNA Newsletter 5 Feb 2015 Blog Post: "Starting with Place: Understanding Characters and Experiences in Jane Austen's Final Novel" Berghanh Press, Oxford 2012 Review: "Sense and Sensibility: The Musical", written & directed by Karen Hamer, Tin Roof Productions