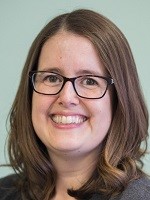 Work & Education
Ann Amicucci teaches courses in first-year rhetoric, research writing, writing pedagogy, and social media rhetorics. If you walk by her classroom, you might see students illustrating concepts on the board, tossing yarn to facilitate discussion, and leading each other in writing experiments. She is committed to creating inclusive class environments in person and online that celebrate students' linguistic differences and empower students to be innovative in their writing and learning.
With Dr. Jo-Anne Kerr, Dr. Amicucci is the co-editor of Stories from First-Year Composition: Pedagogies that Foster Student Agency and Writing Identity (WAC Clearinghouse and University Press of Colorado, 2020). This collection presents research-based pedagogies that center student voices and student autonomy across basic writing, traditional first-year, and online first-year composition courses. Click the link in this paragraph to read our book, listen to podcast conversations with chapter authors, and watch author videos.
Dr. Amicucci's research focuses on pedagogies that excite students and build students' confidence as writers, writing on social media, and faculty composition of instructional videos in online courses. Her recent work appears in Computers and Composition: An International Journal; Preserving Emotion in Student Writing, edited by Craig Wynne (Peter Lang, 2021); and volume 4 of Writing Spaces: Readings on Writing, edited by Dana Driscoll, Megan Heise, Mary Stewart, and Matthew Vetter (Parlor Press, 2021).
Education:
Ph.D. in Composition and TESOL, Indiana University of Pennsylvania, 2013
M.A. in English, Youngstown State University, 2005
B.A. in English, Kent State University, 2003
Courses taught:
ENGL 1310: Rhetoric and Writing I: Academic Reading and Analytical Writing
ENGL 1410: Rhetoric and Writing II: Argument and Research. Theme: "Social Justice Issues in Language Diversity"
ENGL 3020: Topics in Advanced Rhetoric and Writing: "Post Rhetoric: Studies in Epistolary Correspondence"
ENGL 4810: Special Topics in the Teaching of Writing: "Teaching English to Speakers of Other Languages"
ENGL 4830: Rhetoric and Writing: Survey in Contemporary Approaches to Teaching Writing
ENGL 4870: Rhetoric of Social Media
ENGL 4880: Topics in Public Rhetorics: "21st Century Public Intellectualism"