Christine Robinson Coon, M.A.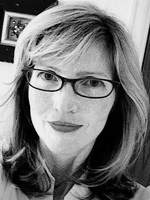 Christine Robinson Coon, M.A.
Work
Christine Robinson Coon holds a Bachelor of Arts degree in art with a comprehensive minor in prehistoric art history from Western Washington University, and a Master of Arts degree in English with an emphasis in rhetoric and composition from Colorado State University. Her work, Posthumanist (Auto)ethnography: Toward the Ethical Representation of Other Animals, was awarded distinction and has been referenced internationally. She presents at conferences across the nation on the rhetorics of the human-animal binary and its potential effects on a diverse range of Others—human and nonhuman. In addition to animal studies and rhetorical theory, her research interests include writing pedagogy, interspecies communication, phenomenology, auto/ethnography, popular culture (especially the science fiction and zombie genres), contingent faculty, and parapsychology. She enjoys teaching first-year rhetoric and writing courses, and a special topics course on animal studies, here at UCCS.